Hear Us O Lord From Heaven Thy Dwelling Place
A two-year AHRC-funded network exploring the work of Wirral-born author Malcolm Lowry (1909-1957) concerning the natural world, and to increase care for our oceans and seas through a series of podcasts recorded during sailings between Liverpool and Isle of Man, 2021-22.
This research emerges from work on Lowry co-ordinated by Bluecoat, including The Lighthouse Invites The Storm / our title comes from Lowry's collection of short stories named after a Manx hymn, Hear Us O Lord From Heaven Thy Dwelling Place.
Lead Investigator: Alan Dunn (Leeds Beckett University) / Co-Investigator: Helen Tookey (Liverpool John Moores University) / in collaboration with Bluecoat, Mariner's Park, Art Doctors and Merseyside Maritime Museum.
Travellers and project participants include Bryan Biggs, Roger Cliffe-Thompson, Rob Keith, Liz Stirling, Alison McIntyre, Cian Quayle, Louise K. Wilson, Chris Watson, BAND PUNK / Band of Holy Joy (James Stephen Finn & Johny Brown), Ian Murphy (Maritime Museum), Jessica Van Horssen, Sarah Hymas, Paul Ratcliff, The Retail Institute, Rob Burroughs and more.
We will invite artists, poets, retired sea captains, academics, musicians and maritime curators to sail (Liverpool-IoM sailings only take place between March-October each year) to chat, observe, mingle with the public and unpack Lowry's short stories in relation to increased care of our oceans. This website will document the project and, from January 2022, our 30-minute podcasts will be available from here. For now, we'll post some visual records and written reflections as we begin to balance ideas around Lowry's environmentally-aware writing (and writer's block at sea) and notions of salvage, time enough and biosphere.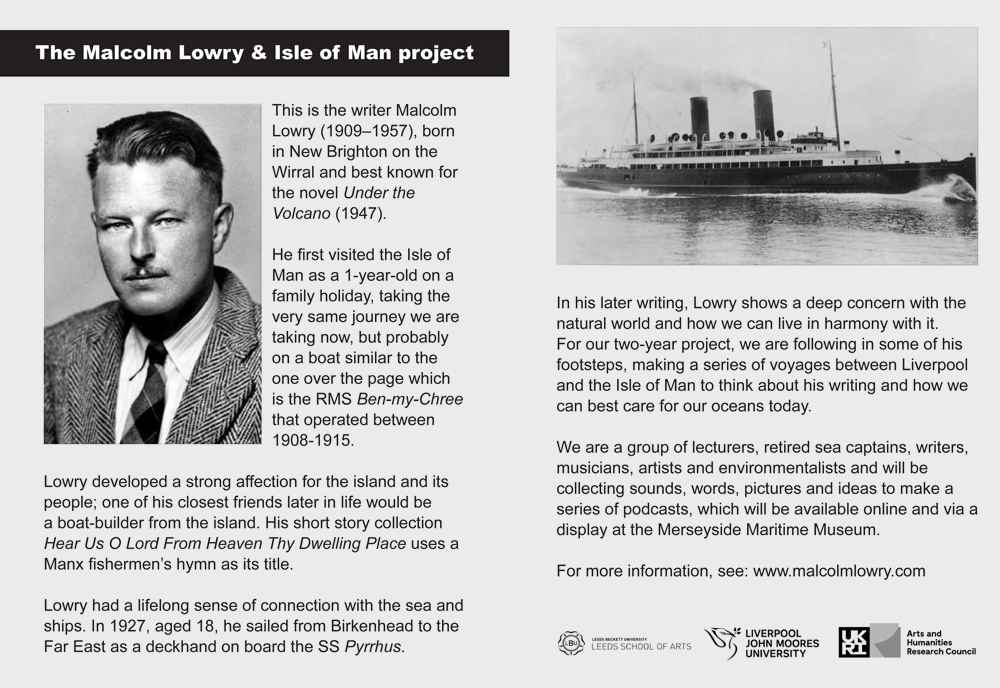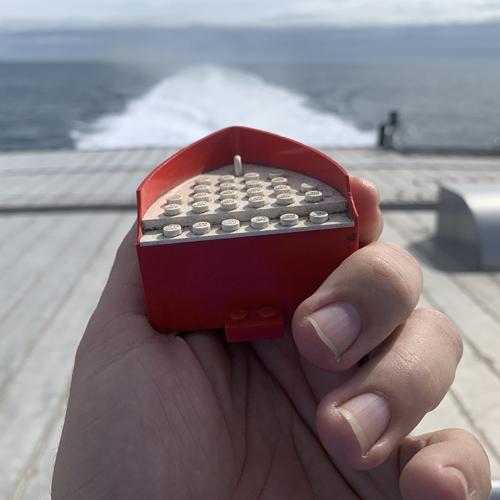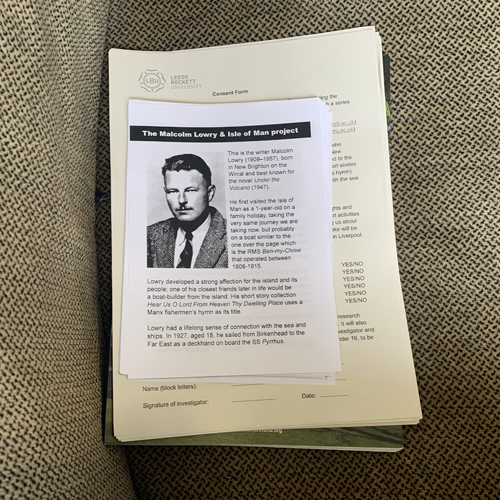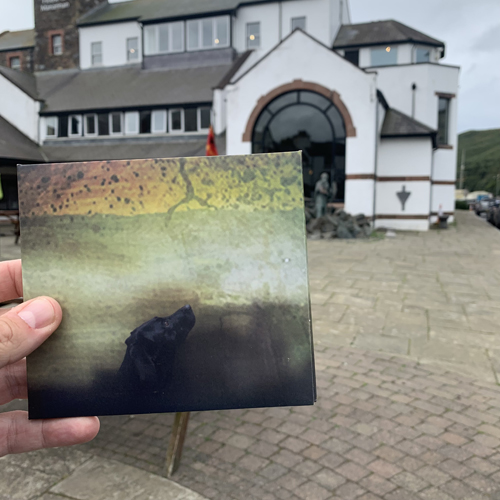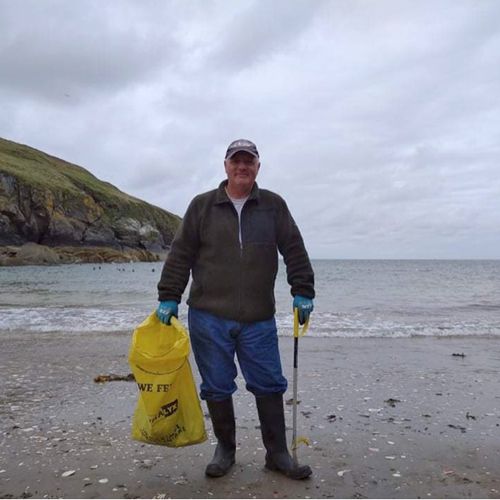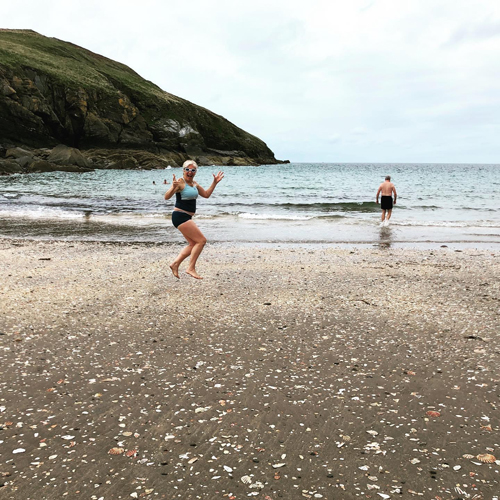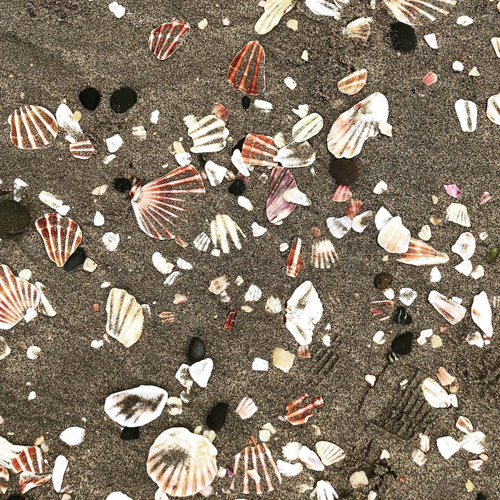 A group of artists, poets, retired sea captains, Art Doctors and composers sailed to Douglas this weekend to record material for podcasts we'll launch early next year, including time spent collecting plastic from Peel Beach with the extraordinary Beach Buddies, some swimming, hanging out with Bee Gees statues, chatting with Douglas Record Shop owners about the project and local bands/sound artists (buying some TEA and BAAD ACID vinyl), interacting with the public on board, recording below deck and chatting with the Chief Engineer. Isle of Man has about 85,000 people and has received UNESCO Biosphere status and feels on the up. Travelling on 9/11, silent Ferry screens full of those images; popping heads into the Northern Soul all nighter, dining well next to the Super Mario crowd, cheering in the Old Market Inn as our BBC updates tell us Emma R has won in straight sets and hearing ripples of support during our return crossing as Mo scores his goal. We quietly sing 'Frere Jacques' into the bracing Irish Sea wind to the rhythm of the Steam Packet engine and stand in awe as the Queen Elizabeth speeds past us out of Liverpool as we arrives back. We stand and look across the Irish Sea to the Lake District or Stranraer, chatting about the links between Isle of Man, Panama Canal and Lowry and grinning at the constant phrase 'traa dy liooar' (roughly – 'time enough', ie the Manx 'mañana').
Alan Dunn (13 September 2021)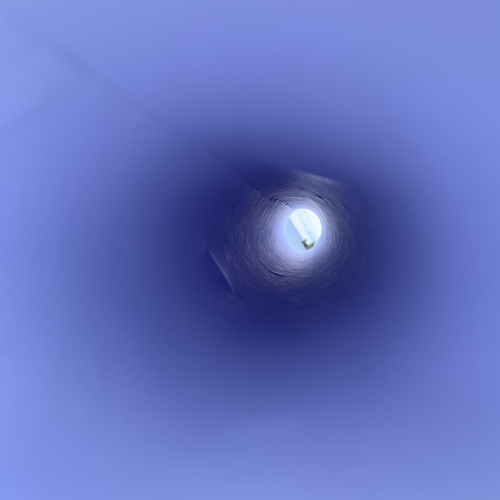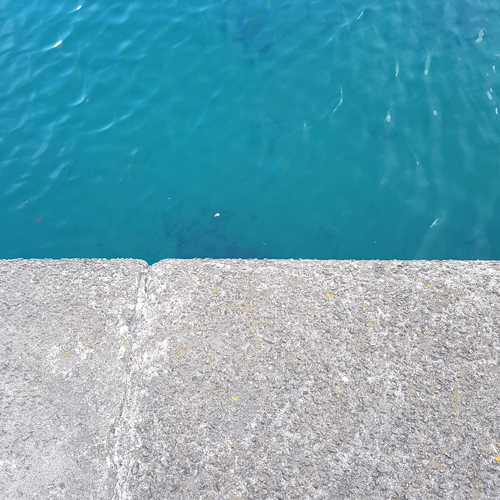 Anxiety of travel (compare Lowry's lifelong fear of customs and immigration officers, of border controls of every sort – though in his case there was at least some justification for his fear) – convinced that you haven't got the right documents, that you've filled them in wrongly. That your passport, which you've already checked many times, is somehow not your passport at all but someone else's. Waiting in the departure lounge on the landing-stage, looking up at the stone walls of the Mersey – never having seen them before from this angle, down on a level with the mud, the seaweed growing thick on the walls below the high tide mark. Never having left Liverpool by sea, despite having lived here for twenty-one years. Heading out into Liverpool Bay, passing the wind farm like a strange stark forest, the turbines like grey twisting trees – 'unnatural', ugly perhaps (a blot on the horizon?), but giving us cleaner, more sustainable energy (later, on the return sailing, someone says that each revolution of a single turbine can power a household for 24 hours) – the paradox of this.
Helen Tookey (13 September 2021)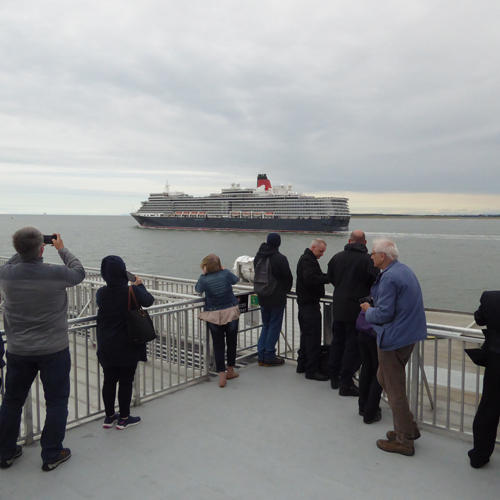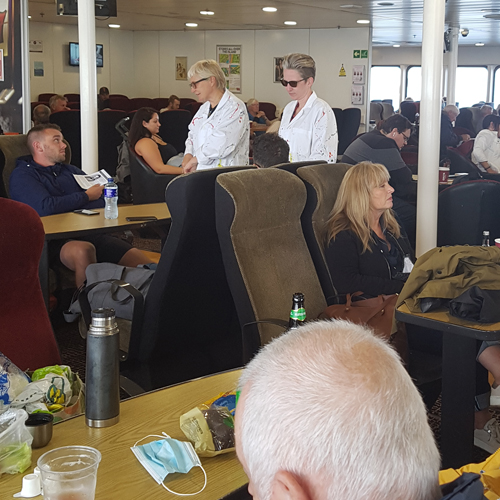 Louise, sound artist, asking me is it an emotional experience, making this trip, and my realising that it is. Not just in relation to Lowry, the idea of following in his footsteps (though there is that), but more so the fact of being here now on this ship with a group of other people, all brought together through Lowry, through this strange connection with a long-dead writer – his ability to make us see differently, feel differently, come to know a place differently. On the ship (Manannan), the Escape & Safety Plan (everyone walks past it): ESCAPE SHOWN FOR ALL SAFE HAVEN AVAILABLE. FOR ALTERNATIVE SCENARIOS SEE SAFE HAVEN PLAN 2892009G. The cosmic significance of this, which would certainly have struck Lowry – what is our safe haven plan? What are our alternative scenarios? Sign onboard: We support the TRAA DY LIOOAR scheme. Giving people 'time enough' to think.

In Lowry's story 'Present Estate of Pompeii' his protagonist Roderick Fairhaven (ironic name?) reflects, in apocalyptic mood: 'What it amounted to was a feeling that there was not going to be time… And Roderick could not help but wonder whether man too was not beginning to stand, in some profound inexplicable sense, fundamentally in some such imperfect or dislocated relationship to his environment as he'. But the commitment of the hundreds of people litter-picking every Sunday on the beaches on the Isle of Man, and the cleanliness of those beaches – I walked slowly up Fenella Beach at Peel with Roger, one of the volunteers, and we didn't find a single piece of plastic. And the family telling me enthusiastically how much they had salvaged and recycled for their own use – everything from gloves to firewood.
Helen Tookey (13 September 2021)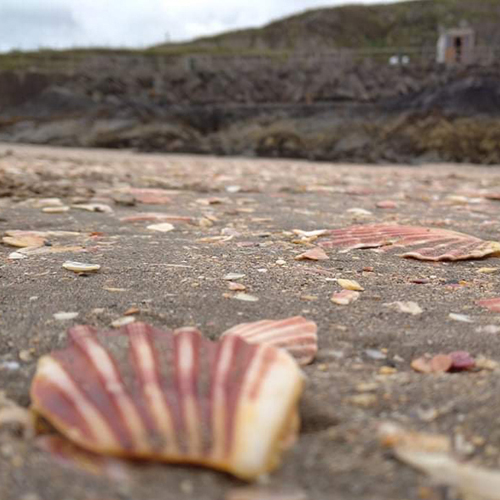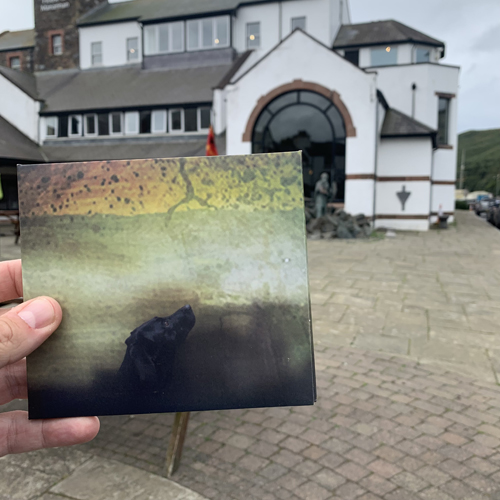 And Lowry in 'Forest Path to the Spring' describes exactly the same: "and of course we got much of our wood from the beach, both for making repairs around the place and for firewood. It was on the beach we found one day the ladder that was later to be so useful to us and that we had seen floating half awash. And it was also on the beach that I found the old cannister that we cleaned and that in the end I used to take each evening to the spring for water. […] And everything in Eridanus, as the saying is, seemed made out of everything else, without the necessity of making anyone suffer for its possession: the roofs were of hand-split cedar shakes, the piles of pine, the boats of cedar and vine-leaved maple. Cypress and fir went up our chimneys and the smoke went back to heaven."

Fenella Beach pink with the beautiful scallop shells, thousands of them, dumped into the sea by the seafood processing places just along by the marina, washed up here by the currents, and then, one of the volunteers told me, collected by farmers who crush the shells and spread them on the fields for fertiliser. I brought back a few of the shells (it seemed okay to do this, since the whole beach was covered with them). All of us thinking also on the boat on the way back to Liverpool about what else we might be bringing back, in the way of new knowledge – new connections – new ideas to try. New ways of doing things?
Helen Tookey (13 September 2021)